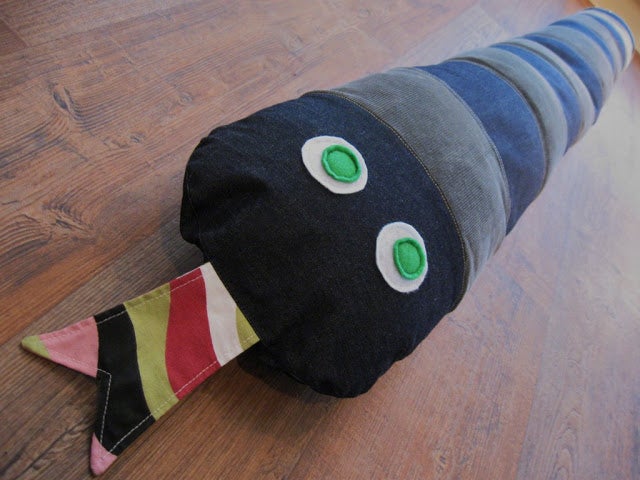 I promise, kids will ADORE this snake! This easy-to-make project is one gift that your little kiddos won't forget.
The final measurements are about 88 inches (2.2 meters) long and 23 inches (58 cm) wide.
You will need:
bottom weight fabrics such as twill, corduroy, or denim 60 inches (150cm) wide
2/3 yard (60cm) of fabric #1
2/3 yard (60cm) of fabric #2
scraps of green and white felt for the eyes
scraps of cotton fabric for the tongue – zipper (optional) 
Cutting:
cut 6 rectangles 24" X 7" (61 cm X 18 cm) of each fabric for a total of 12 rectangles
for the head and tail cut 2 of each color following the pattern piece given here.
Cut 2 tongue pieces and 2 eyes using the pattern pieces given here.
Assembly: 
Take tongue pieces with right sides together (RST) using a 1/4" seam allowance (SA) leaving the short straight end open. Clip corners and turn right side out, press. Top stitch 1/4" away from the edge.
Determine where you want to place the eyes and top stitch into place 1/4" away from the edge. Repeat to add the pupils.
Stitch tongue into place with a 1/4" SA
Take both headpieces with RST using a 1/2" SA stitch the round part of the head, and turn right side out. Repeat for the tail end.
Assemble the rectangles alternating colors with RST using a 1/2" SA. Press SA to one side and top stitch if desired. (tip: topstitching will make the seams more secure and durable.) 
Fold the snake's body lengthwise with RST matching up the seams. Leave a hole in that seam at midway. If you want to put in a zipper measure the length of the opening required for the zipper. Stitch using a 1/2" SA. Leave body inside out.
Insert the head at one end and the tail end at the other end. The long body seam should be face down to the ground so make sure you place your head so that the eye is not aligned with that long seam. You would also want to make sure the shape of the tail end matches up with the head. Stitch into place using a 1/2" SA.
Turn right side out (note: you may not want to clip curves and trim seam allowance and to not weaken the seams to the snake)
Stuff and close up the hole by hand stitching. If you want to put in a zipper do so before stuffing your snake. The zipper will allow you to remove the stuffing when the pet snake is due for a wash.
Voila!
I'm sure you won't regret making this little project! This is the perfect gift for birthdays or holidays, your child's eyes are sure to be filled with delight.
I'd love to see your finished projects please send them.